How you can help us
JungleDragon totally depends on the community to make it a success. That means you. We work hard to bring you the best nature sharing platform out there, but without you, we are nothing.
Below are some very simple tips that cost no money and very little time yet will help us tremendously:
#1. Appreciate the content you like
JungleDragon has "share" links throughout the site that allows you to share content you like on your favorite social network. Using this option makes a big difference to JungleDragon to increase traffic.
#2. Tell your friends
Word of mouth marketing is the best marketing there is. Tell your friends about JungleDragon. Maybe you know people in your circle that also love nature. Maybe you run a blog where you can link to us. Perhaps you know this local bird watching club. The more, the merrier.
If you believe you have a serious sharing opportunity in your environment, we can even send you a pack of JungleDragon business cards, for free. Here's a snapshot of what they look like: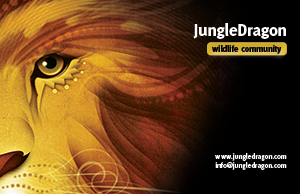 Contact us if you are interested.
#3. Participate
Any form of participation is welcome. Even if you do not have photos of your own to share, you can still contribute by voting, commenting, creating photo lists and classifying photos. All these contributions enrich the platform and will make us better findable by both people and search engines.
#4. Follow us
Outside of the website itself, there are various channels where you can follow JungleDragon:
The more followers, the better. But it's not just about following, you can talk back. Please do!
#5. Recruit
We exclusively rely on the generosity of photographers to upload and showcase their work. Bringing new photographers in is therefore important. Whether you know a photographer personally or not, if you can get them on board, by all means do. Tell them why you think we have a great, friendly platform. It never hurts to try. Plus, they get free exposure for their work in return.
#6. Donate
Ok, this is the only tip that actually does cost money. If you have something to spare and appreciate our case, you can donate an amount of your choice on the donate page.
Concluding
Thank you for your help. Remember, nothing is required of you, yet all is appreciated. Whether you have two seconds or 2 days, there are always ways to help the community further. Even the smallest help makes a big difference. Let's together build the best nature community out there.